Gallery:
Odysseys in Action

---
Click on the thumbnails to see larger image.


Here's a photo of Mike Overacker's Odyssey, next to his Minimoog, and over his
E-II. Mike is the Webmaster and the one who kindly provided the space for this Odyssey web page.



This is Robert Williams playing his Odyssey about 1979 in high school stage band. Check out that hair!



Here's the rack that contains the webmaster's Odyssey today.







































A Gentle Electric 101 Pitch & Envelope Follower and an Odyssey being used as
a 'tracking detuned strobe trigger' for sine vibration testing. This gives a
slow motion effect when shined on the test product, which is flexing due to
the vibration. Submitted by Toby Paddock.










































































These are photos of the "ARP Baby"......Adam Ross Peglar (ARP), born 8/31/1999. He
loves his Whiteface Odyssey! Thanks to Dad and Mom Steve & Joy Peglar for sending these along.







































These are photos of Troy Micheal Stultz's Odyssey and studio set-up.




Here's another baby playing a whiteface Odyssey. Quentin Chabbert playing his first solo at only 11 months!
Thanks to dad Marc Chabbert for sending this to me from France.




Here's the Rev. Stevie Fever with his current setup in Portland, Oregon. Behind him in the upper middle of the image, you can see two Oddys with two ARP sequencers (one above each Oddy). Below those you can see one of his 2600s with its keyboard above it.
To the botton left, you can see the other 2600.



Here's the Rev. Fever's setup when he lived in Olympia,Washington.




Here's the spectral image of Andrew Sanchez hovering in front of his racked whiteface Odyssey. The Oddy is near vertical on a Quick Lok amp stand just to the left of his Prophecy and to the right of his main controller for easy access to the controls. He disconnected the Oddy's keyboard and controls it now solely through an Encore Expressionist.





Here's Steve Siers' Odyssey with the rest of his synth set up out in New Jersey. Access Virus b, Alesis NanoBass, Alesis NanoVerb, ARP Odyssey w/Kenton Pro Solo, Boss Dr. Rhythm DR-770 Drum Machine, Casio SK-1, Digitech TSR-6 Stereo Effects Processor,
Digitech Vocalist Performer w/Harmonizer, Fatar SL-161 Midi Keyboard Controller, Fatar Studio 49 Midi Keyboard Controller, Fostex FD-8 Digital Multitrack, Mackie 1202-VLZ Mixer, Mackie 1402-VLZ-PRO Mixer, Nord Lead 2, Nord Micro Modular, Philips CDR880, CD Burner, Rickenbacker FL-4003 Fretless Bass, Roland JP-8000, Roland JV-1010, Roland M-VS1 Vintage Synth, Roland PC-200mkII, Midi Controller, Roland PK-5 Dynamic Midi Pedals, Roland SPD-11 Total Percussion Pads, Samson Q5 (5Ch)Stereo, Headphone Amp, Sherman Filter Bank, Sony A-6 DAT Recorder, Sony MDS-JB930 24bit Minidisc Recorder, Sony MDS-JE510, Minidisc Recorder, Waldorf Qrack, Waldorf XT, Yamaha MDF3 Midi Data Filer, Yamaha RM1x Sequence Remixer, plus some odds & end stuff like (2) Ditek 450VA UPS (uninterrupted power, supply) w/surge protector, other various surge protectors, chords, microphones, stands cables and adapters.




















































Here's some interesting items sent to me from Maciej Polak in Poland. The first picture shows his Odyssey, then a Roland VP330 called a Vocoder Plus, then a Russian Polyvoks synthesizer. The second picture shows an extremely rare Solina String Synthesizer (painted white by previous owner), which is actually a combination between an ARP String Ensemble and the ARP Explorer 1. Supposedly only around 100 were ever produced. Anybody know how much this thing is worth?



































































These photos were sent to me by Davy Maengkom who lives in Amsterdam, in the Netherlands. These pictures were taken in his home studio. It's actually a bedroom studio, because he sleeps in it also. You can see his Odyssey 2800 neatly tucked away between a Sequential Circuits Prophet-5 rev 3.3 (perfect condition) and a very mint Korg MS-20. In the 2nd picture you can see his double bass. Some other synths/instruments he owns are (not in picture): ARP/Solina String Synthesizer, DX7, Fender Rhodes stage 73 mark I, Hohner Clavinet D6, Yamaha AN1x, Fender JazzBass, drums, LP conga's and a '70 Vincent Bach Stradivarius model 37 trumpet.



































































From the UK, Jordan Gibson sent me a picture of his setup (minus his Yamaha CS15 lurking out of view). Also sent was a picture of Gary Numan using his Oddy on the track Complex during his 1981 Wembley 'farewell' shows.



































































Here's a couple more from Jordan - this time of Gary Numan's 1979 appearance on the BBC's "Old Grey Whistle Test" show. Long-standing Odyssey devotee Billie Curry of Ultravox was playing keys and viola for Gary around this time.
































































































































These pictures are from Christophe Jooris in Belgium and he's a professional music producer. He has about everything from ARP and of course, alot of other vintage synths. These pictures show his ARP Odyssey, his ARP 2500, his 2 ARP 2600's and his Korg PS2300. The pictures were taken in a stockroom where he stores his synths when he is not using them in the recording studio.






























































































































































































I received these Odyssey pictures from Ngan Hon Chun in Hong Kong. He says:
These 4 pictures are captured from a 1984 Hong Kong movie entitled, "Behind The Yellow Line" in English. The leading actor of the movie is the famous superstar Leslie Cheung (1956-2003) RIP! He is the boy standing at the left side of the first photo. I think he is also a well-known artist worldwide, as he played in a few Wong Kar-Wai movies in the 90s. More information about Leslie can be found on www.allmovie.com , also many many fans sites all over the world. LESLIE and ODDY in 1984! This is a interesting story for me. [Editor's Note: This movie is also listed on The Internet Movie Database under its Chinese title, "Yuen fan". ]
In the other three pictures, they also show an ARP Solina String synthesizer in the same scene, quite a rare synth in old Hong Kong. What a pride!! There is also a Roland synth in the first picutre, but I don't know what the model is. Hope you guys enjoy!






























































Got these cool pictures from Sam Grawe featuring his cat atop a whiteface Odyssey 2800. The starfield in the background really sets these pictures off.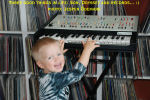 Just got this cool photo from Jesper Ödemark featuring his son, his records, and his Oddy.

The three best things in life.
---
Comments, suggestions and additions may be emailed here.