ARP Odyssey Synthesizers
Currently for Sale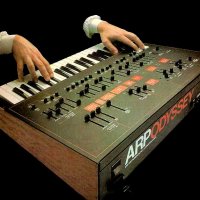 Webmaster Note: Here's a link for Odyssey prices on past eBay sales!
~ OR ~
(Click here to see all ARP related items on eBay)
Odysseys listed in Sound on Sound's UK Classifieds
Odysseys for sale on Harmony Central®
NOTE: Odysseys are not always for sale on the above listed sites. This means you may occasionally come up with nothing. Additionally, the searches above are keyed to the words ARP and ODYSSEY together. While this will usually get you what you want (if it's available), it may occasionally come up with items other than the synthesizer, such as a painting entitled "Odyssey" by French impressionist Jean Arp. Your understanding of this unavoidable quirk is appreciated.

---
The following company occasionally has Odysseys for sale in the UK:
Music Control Audio Services Ltd.
Chapel Mews - 68 Crewe Rd. - Alsager
Stoke-On-Trent - Staffs - ST7 2HA - England.
Phone +44 (0) 1270-883779
Fax +44 (0) 1270-883847
---
Comments, suggestions and additions may be emailed here.