Patches for the
ARP Odyssey Synthesizer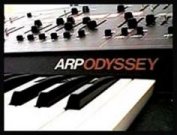 ---
Blank Odyssey Patch Sheet 93k jpeg
(Use this one to submit patches to me, since I've sized it to fit your computer screen)
Hi-Res Blank Odyssey Patch Sheet 324k jpeg
(For printing hard copies)

---
ARP's Original Odyssey Patches

1981 ARP Odyssey Patch Book (75 Patches)
Twelve Patches from the 1976 Odyssey Owner's Manual
ARP's Original Odyssey Patch Panel Overlays
Sax Sound
This Saxophone patch originally appeared in the April 1977 ARPeggio Newsletter
Roger Powell's ARP Odyssey Patches and Tutorial
This book and tape was originally included with the Model 2800 whiteface Odysseys when they first came out in the early 1970's. Thanks to Bob Hanna for e-mailing me scanned images of this valuable book.
Thanks to Guy Phethean for the audio tape (which I converted to MP3 Format).
---
User Submitted Patches

Patches submitted by Jordan Gibson
Complex
Comments, suggestions, additions and PATCHES may be emailed here.